Situated in an ordinary unplanned neighborhood in Sarajevo, the Half House is a new studio extension and refurbishment of the ground floor of a typical Bosnian 'family house'. The Half House has been designed for a wheelchair user and his wife. The studio extension is a new typology for the area: it is in between a detached studio house, a family gathering space, and a 'weekend' countryside house common to the region.
Architecture
No doubt hunting has been there since the development of mankind, and when it comes to hunting, then the dogs are the best human partners. It is believed that dogs and humans have been doing hunting together since the development of mankind and the beginning of the dogs' domestication. Hunting has been a fundamental part of survival for humans and dogs since their creation. However, later on, hunting became the best sport for humans than a way of life. Do you know about hunting dogs? These dogs are the human's development, which is trained to prey. Yes, we humans have been developing dogs into specific breeds with specialized traits. The best thing is today's developed purebred hunting dogs are now the part of the AKC sporting group ...
Deep Frida Kahlo Quotes on Everything
"Feet, what do I need you for when I have wings to fly?" – Frida Kahlo
"Pain, pleasure, and death are no more than a process for existence. The revolutionary struggle in this process is a doorway open to intelligence."
– Frida Kahlo
"Only one mountain can know the core of another mountain." – Frida Kahlo
"Nothing is absolute. Everything changes, everything moves, everything revolves, ever...
Today I have a super cute idea for you—an Eskimo kiss shot! Such a nose-to-nose shot could either look very romantic with the eyes closed (as pictured above) or playful and fun with eyes open and the couple laughing or scrunching noses. The photographer could take both kinds of shots. They'll probably both be keepers, huh?
Romantic Nose Kiss Eskimo Kiss Wedding Photography Ideas
Weddings
↓ 17 – Jeans with Sweatshirts
Sweatshirts are our favorite things about winters along with Christmas and hot drinks. They are super comfy and can be pulled off easily. There is no such thing as an ugly sweatshirt. They look good in muted tones as well as flashy neon colors. The best ones are the hooded ones that keep your ears warm in the chilly weather and keeps your hair concealed on bad hair days, all while making you look cute.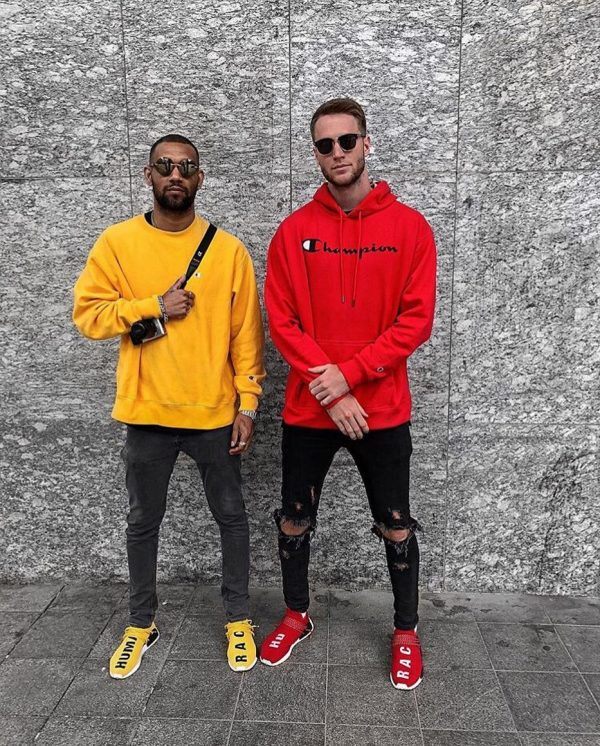 Hey, All The Dog Lovers!
Well, we know you are here to know about the best fostering puppies tips because you are a kind and a pure soul, who just want to help dogs. Don't worry, we are with you, and promise you to give support by sharing the basics about fostering a dog. In this piece of writing, we will give you the best tips to be a potential foster dog parent, so that you can get it right and save a precious life.
Hey, don't need to worry even if you own a beautiful dog, fostering a pup can be a great fun. It can be amazing to play with a foster dog and let him interact with your own dog. Make sure you just not take it was a fun game, but it is a huge responsibility to take care of a fo...
Buying a cheaper iPhone seems like a great idea until you run out of storage for the first time. You've gone on a downloading spree and ended up with too much extra stuff. No shame - we've all done it.
Thankfully, it's easier than ever to clean out your Apple smartphone for all the other apps and media you actually use. Whether your iPhone has too much storage or not enough, it deserves a spruce-up every now and then.
There are currently three main methods to remove apps from your phone. Let's take a look at each.
The standard method
There's a quick gesture that lets you delete iPhone apps in seconds. Long-press an app icon, but make sure not to press so hard your phone thinks you want to use one of its pressure-sensing gestures.
After approximately 1.5 seconds, you will feel a haptic click. A drop-down menu will list some options - pick 'rearrange apps' and your app icons sh...
The new Aston Martin DBS Superleggera belongs to Q Collection, a range of exclusive supercars with unique improvements that are designed and engineered by the high-end brand's in-house bespoke division. Featuring distinctive elements that emphasize the power and the elegance, the Aston Martin DBS Superleggera was launched to celebrate the 50 years since Concorde aircraft made its first flight and as well the centenary of British Airways.
Cars and motorcycles
As Sony and Microsoft eye the next generation of video game consoles, and Google experiments with cloud gaming with its Stadia platform, studios everywhere are preparing to give this generation its swan song while crafting the future of the industry. The result will be a 2020 full of compelling new experiences, jaw-dropping remakes, long-awaited sequels, and a few games that defy classification. As such, we've picked all of the upcoming games you need to keep an eye on in 2020.
You may be wondering where games like Ghost of Tsushima, and Metroid Prime 4 are on our list. While it's certainly possible (maybe even likely) that some of these games will be released in 2020, for the moment, we are only including games which have been granted a 2020 release window or release date. Rest assured that we will be updating this list as more games are confirmed.
For now, her...
As much as I hate to admit it, even with my plethora of products and access to doctors and treatments, I still struggle with breakouts — big time. I know I'm not alone, and there are definitely bigger issues in life than zits, but that doesn't mean it's not annoying.
Bottom line: the struggle is real, and if you're someone who still breaks out, like me, then read on for the tips I've learned to help keep my skin semi-happy with significantly less breakouts.
Diet – If you're doing everything right in terms of skin cleansing and correct product usage, then your problem is likely diet or hormones (or both). Learn what foods trigger breakouts by taking away known provokers, like sugar and dairy. For...
<Previous 4 [5] 6 7 Next>